Picturing San Francisco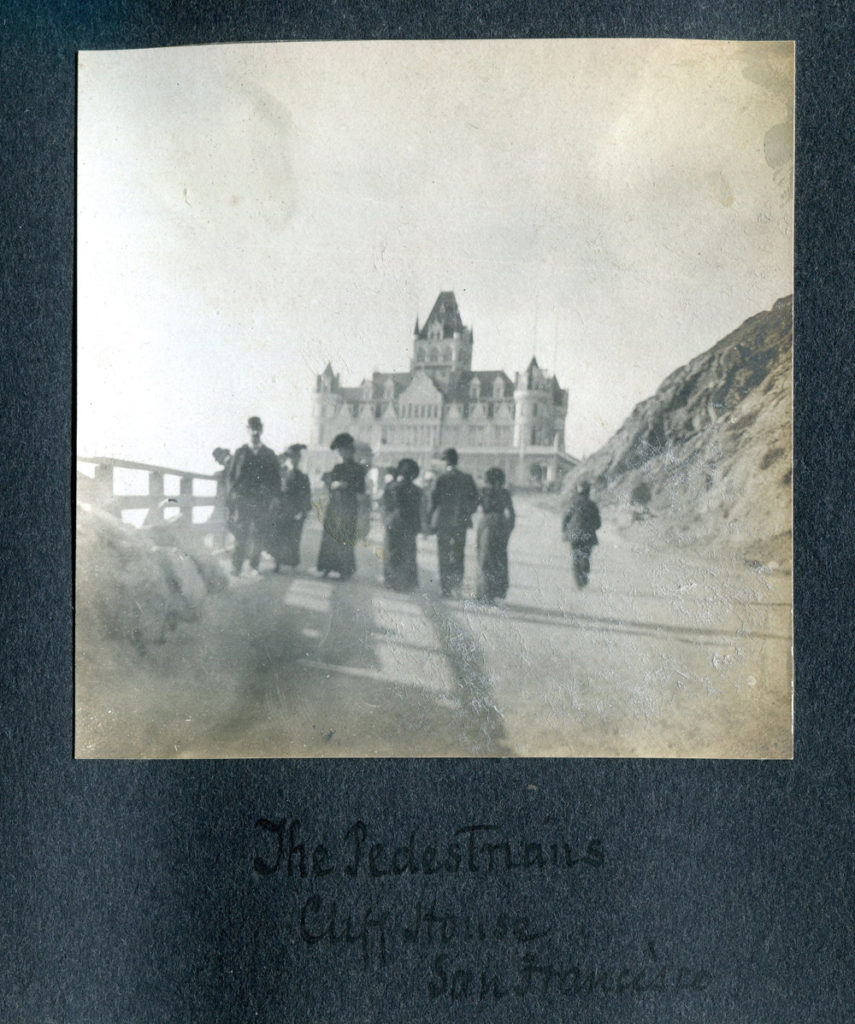 Three years ago or more I sat under this same skylight, with morning coffee, gazing out over the bay—writing, dreaming.… How very strange to be here once again: the same sirens warning the same ferry boats, the same fog drifting over to shroud the bay and obliterate the horizon.
—Edward Weston, Daybook entry, San Francisco, August 24, 1928
In 1988 I found an old photo album at the Alameda flea market. The cover is dark burgundy with a pebbled texture. Inside, floating on black pages now fading to a charcoal gray, is a sequence of photographs describing a variety of sites in the San Francisco area. The first image, stained and yellowed, is dominated by a date palm in the middle distance, its fronds boisterously shooting out from the center of the picture. Barely discernible in the palm's shadow, a woman in a Victorian dress stands with her hands tightly clasped, waiting for the photograph to be taken. Beneath the image, inscribed in impeccable cursive, is the date, 'October 21, 1901. '
Judging by the date and the format of these photographs, they were most likely taken by a Kodak Brownie camera. George Eastman's Brownie appeared in 1888 and was marketed with the slogan, "You push the button and we do the rest." The Brownie's ease of use and accessibility democratized photography and revolutionized visual culture by opening the door to the vernacular. Paging through the forty images in the album is like peeping through a keyhole to someone else's dream, they are a bit soft in focus, and some are vignetted, or awkwardly composed. One image captures a cluster of dark-clothed people in late afternoon slanting sun, moving towards or away from a grand building in the distance. The inscription reads: "The Pedestrians, Cliff House, San Francisco." The next image shows a rocky protuberance breaking the surface of the ocean. An unrelenting white from above pushes down on the horizon, softening the distinction between water and sky. And as if to underline the dreamlike quality, a turn-of-the-century seagull provides a double-eyebrow shape in the lower left-hand corner, one wing points outside the frame to the inscription 'The First Glimpse of the Pacific.'
Many photographers are associated with cities where they lived or made important images. A subjective and partial list might connect Atget and Brassai with Paris, Bill Brandt with London, Manuel Alvarez Bravo with Mexico City, Harry Callahan with Chicago, Daido Moriyama with Tokyo, and Helen Levitt, Weegee, William Klein and Arbus, to name a few, with New York City. There are photographers, like Bernd and Hilla Becher, whose legendary teaching led to the creation of the 'Dusseldorf School', and ragtag associations of artists like Nan Goldin and Mark Morrisroe that get tagged with vague terms such as the 'Boston School.' Yet the lineage of historical, modern and contemporary photographers associated with San Francisco, the Bay Area and Northern California, is unique in the history of the medium.
There are myriad reasons why this might be. Gold, Railroads, and the Transcontinental Railway brought Manifest Destiny to the shores of the Pacific. The U.S. had reached continental proportions and the dramatic photographs of that westward expansion by Carlton Watkins, Timothy O'Sullivan and Edward Muybridge, among others, provided not only proof of majesty, they also functioned as pictorial invitations to the citizens of the seething cities of the East Coast. San Francisco was born almost simultaneous with the invention of photography; the two are generationally entwined. As much as Northern California excited the 19th century literary imagination, a burgeoning photographic practice immediately found inspiration in vertiginous heights and snaking fog. As Rebecca Solnit has observed, by the 1850s San Francisco boasted 40 bookstores and a dozen photo studios; it was a place that invited vivid description and new metaphors were required about what a city might be.
In early 20th century New York, the photographers Alfred Steiglitz and Lewis Hine, were defining the twin poles of photographic practice — art versus utility, camerawork versus social work. The same investigations were occurring in the Bay Area, although in a more muted tone. Hawaii-born Anne Brigman came to the Bay Area in 1885 as a teenager and settled in Oakland when she married. Painter, poet, and actress, Brigman was friends with Jack London and was drawn to the small but active literary and artistic circles enlivening the city. She took up photography in 1901, trekking trails in the Sierras in jeans and boots with her large format camera slung over her shoulder to make mythologically inspired images in nature, often using herself as a model. Inspired by the esthetics of the Photo Secession, she began a correspondence with Stieglitz, who featured her images in three issues of his journal Camerawork.
Arnold Genthe moved to San Francisco from Berlin Germany in 1895 and was soon making surreptitious photographs in Chinatown. His images are important and problematic in that while they document of life among Chinese immigrants, they also project a sense of mystical otherness on his subjects. His most well known photograph is Looking Down Sacramento Street, April 18, 1906, shows the wall of smoke produced by the flames that engulfed the city after the quake. In the foreground to the right, we see a group of people sitting in chairs in front of their destroyed home observing the approaching fire. According to Genthe, as the fire crept closer, they picked up their chairs and moved them a little higher up Nob Hill.
As the Pictorialist tradition gave way to the clarified esthetics of modernism, Northern California in particular continued to attract photographers. The images of Edward Weston, Ansel Adams, and Imogen Cunningham are so widely known at this point it is difficult to imagine the isolation and misunderstanding those photographers felt, so distant in miles and sensibility, from New York and Europe. In 1932, Adams and Willard Van Dyke helped to organize the first collective exhibition of the f64 group at the de Young Museum in 1932. That exhibition not only publicly proclaimed an approach to photography that would come to dominate the practice for decades, it also established San Francisco as a city with a community of photographers in (sometimes fractious) solidarity.
John Gutmann fled the Nazis in his native Germany and arrived in San Francisco in 1933 via the Panama Canal. The scholar Sally Stein quotes Gutmann remarking that he loved California because "The sun always shines and no one disapproves of my nose." He did not intend on a photographic career yet his influence as a photographer and long-time teacher as San Francisco State University made an indelible mark on the history of the medium; over the decades he embodied what Doug Nickel called the "eminence gris" of San Francisco's photography world. In his first years in San Francisco he was aware of the f64 group but his concerns were more urban and sociological. This is not surprising considering he had just escaped from Berlin and the failed Weimar Republic. His photographs display an interest in the diversity of his adopted city; its street fashions, its burgeoning car culture and the idiosyncratic semiotics of graffiti and commercial advertising.
There are two versions of a self-portrait Gutmann made in 1934 in which we see him looking out from his apartment window high above North Beach. In one frame he sits upon the windowsill facing the camera and wearing a white shirt, a bottle of beer and a glass rest on the shadowed table behind him, his expression is contemplative. This is the portrait of the artist at rest, perhaps he is thinking about ferryboats just as Edward Weston had been a few years earlier in a nearby apartment. In the second frame, Gutmann is turned away from the camera, peering across rooftops to the bay in the distance. He has changed his shirt; it is short-sleeved with thin horizontal stripes. He eagerly leans on the windowsill with a paintbrush in his right hand. His knee is up as if ready to leap, not in despair but in hungry enthusiasm for the visual richness that awaits him in his beloved new city below.
When Ansel Adams founded the first fine-art photography program in the country at the California School of Fine Arts in 1945 (later renamed the San Francisco Art Institute), the faculty included Minor White, Imogen Cunningham, and Dorothea Lange. And later in the 1950's when Gutmann was joined by Jack Welpott at San Francisco State, the influence of educational institutions in fostering photographic community and lineage becomes vividly clear. From that point on, a continuous string of photographers came to the Bay Area to study and stay as active artists and teachers themselves, creating a generational wave of photographic artists whose work sometimes extended traditions or signaled a paradigm shift in photographic meaning. To the stellar list of names of significant Bay Area photographers in recent years such as Lewis Baltz, Catherine Wagner, Henry Wessel, Larry Sultan, Jim Goldberg, Richard Misrach, Judy Dater, Janet Delaney, and Linda Connor we can add Todd Hido, John Chiara, Katy Grannan, Lewis deSoto, Lukas Felzmann, David Maisel and Chris McCaw.
Although thriving, the fine art photography world was a much smaller place in the 1960s and 70s than it is now; it's circles tighter, friendships and mentorships more intimate. For example, Linda Connor, whose exacting and elegant photographs are at once both contemporary and rooted in 19th century practice of the photographer as explorer, a seeker of wonder, studied photography with Harry Callahan as an undergraduate at RISD. Callahan suggested she continue her studies with Aaron Siskind at the Illinois Institute of Technology. While she was there she met visiting artist Imogen Cunningham who encouraged her to move to San Francisco and look her up. She did, and Connor soon began teaching at the Art Institute in 1969, where she continues to inspire new generations (including me), extending that extraordinary lineage.
I applied to the MFA program at SFAI three times before I was accepted in the fall of 1983. I cannot describe exactly why, but I was not interested in any other school. I felt a magnetic pull towards the city and that particular institution; it was legendary and I wanted to be a part of it. A city can be photographed vertically or horizontally, emphasizing the monumental or the social. But photographing in San Francisco was an entirely different experience. With its heights and valleys, its shifting layers of fog and haze, its microclimates and demimondes, the way it backs into the Pacific, San Francisco is a city that evokes meditation on the subjectivity of perception itself. One morning, soon after I moved into an apartment at Mission and Dolores, I borrowed my roommate's moped and buzzed out to see the Camera Obscura at Seal Rock. Stepping out of the hazy glare of midday and into the darkened chamber, my eyes imbibed the projected horizon of the Pacific as it fell upon the large concave white dish transforming the blurry boundary between ocean and sky into a shimmering two-dimensional phantasm. I was smitten.
Imagining myself as a modern-day Weston, I sat in the student café at the San Francisco Art Institute to gaze over the Bay to Coit Tower, Alcatraz, the tentacles of fog slipping beneath the Golden Gate Bridge, and the ferries bobbing to and from Sausalito. I walked into graduate seminar for the first time with a box of color prints under my arm. Larry Sultan was sitting there smiling, humming to himself and rolling a cigarette. It is hard to underestimate the impact meeting and working with Larry had on me. His collaboration with Mike Mandel Evidence expanded my understanding of photographic meaning in a fundamental way. Larry's critiques of student work were rigorous and generous, punctuated by much laughter. He laughed at himself, at earnestness and pretension, at failure and success. He quoted Aristotle, Virginia Woolf and Walter Benjamin, often following up with a silly pun. But it was his insistence that conceptual coolness could be infused with humanity that continues to speak to me. Elegant, compassionate and critical, his Pictures from Home series, embodies this ideal.
The publication of Jim Goldberg's Rich and Poor in 1985, a project he began as a student at SFAI, was a watershed moment in the history of photography. His restless and energetic improvisations with the documentary form posed fundamental and necessary questions about the assumptions of objectivity in documentary practice. Because of photography's specificity, Goldberg's images, accompanied as they are by the voices of disenfranchised and privileged citizens, San Francisco's class system became emblematic of America's contemporary social inequities.
Arguably more than any other photographic artist in the age of environmental crisis, Richard Misrach has extended the tradition of landscape photography by challenging the stale mythologies of the American West. Misrach was enrolled at Berkeley in the late 1960s as a math major when he strolled over the ASUC studios to make some ceramic ashtrays for Christmas presents. There he saw an exhibition of Roger Minick's Delta West series of photographs. Misrach had never considered photography in any serious way and credits Minick and the darkroom facilities at the ASUC studios for the revelation that photography could be a way forward. He was soon devoted to his first important project Telegraph 3 am depicting the rough nocturnal life of Telegraph Avenue. He was rejected from the grad program at San Francisco State and advised to consider a different career than photography. Fortunately he did not heed that advice. Over the decades, Misrach has been a consistent presence and supporter of photographers in the Bay Area and his photographs have demonstrated that beauty and social consciousness are not mutually exclusive.
Catherine Wagner who taught photography at Mills College for decades, credits the conceptual works of Lewis Baltz, Robert Cumming and the Bechers, among others, in countering the sometimes-suffocating legacy of the f64 group on West Coast photography. She appreciated the austere rigor of conceptualism, how it questioned representation and encouraged thinking almost as a sensual pleasure. Her images signaled a shift away from the spiritual quests of Weston and Adams, for example, to find a new approach to photographic meaning. For her project, American Classroom, Wagner photographed vacant classrooms in a way that suggests theater sets after the play has ended. Cool, haunting and enigmatic, her photographs lead us not to think of the goals and ideals of education, as the title might suggest, but offer strange and inscrutable objects that defy easy meaning.
The 1970s and 1980s brought much-needed institutional support to the vibrant photo community. The non-profit gallery Camerawork was founded in 1974, and Jeffrey Fraenkel opened his gallery in 1979. Both provided crucial exhibition spaces for emerging and established photographers. Van Deren Coke was hired as the photography curator at the San Francisco Museum of Modern Art in 1979. Not only was he a visionary curator, he was also a practicing photographer. By the early 80s, Vision Gallery and Eye Gallery opened and Henry Brimmer co-founded Photo Metro, a free monthly magazine devoted to articles, interviews and portfolios. Printed on newsprint and distributed widely, Photo Metro published for 13 years and had a circulation of 15,000, bringing exposure to the work of established and emerging artists from all over the world. Renovating abandoned military buildings into artist studios, the Headlands Center for the Arts opened in 1982, providing both local and international artists a dramatically beautiful environment in which to work. Sandra Phillips became SFMOMA's curator of photography in 1988 and when the museum moved to its new building at the Yerba Buena Center a few years later the museum's revitalized photography program became internationally recognized.
While its concerns were sometimes parallel with the larger art world, for most of the 20th century, fine art photography has had its own distinct culture of galleries, publications, schools, historians and critics. Many photographers both cherished and bristled at this insularity. This has changed to a large extent; photography now plays a central if not dominant role in contemporary art. As a result, some of photography's small village camaraderie, where everyone seemed to know and support one another, has been lost. San Francisco proves to be the exception. In preparing for this essay I reached out to several photographic artists and posed a handful of questions asking for their thoughts on the relationship between photography and the Bay Area. Almost everyone responded quickly and enthusiastically and with no prompting each remarked upon the strong and uniquely supportive photographic community. Todd Hido, who is now one of the most prominent contemporary photographic artists wrote "Having moved from the east coast to go to the California College of Arts and Crafts to study with Larry Sultan, I remember specifically being blown away by the kindness and generosity of the people who live and work here, particularly the photographic community."
As keenly aware of the history of photography as of contemporary esthetics and politics, David Maisel's aerial photographs of land use in the American West are as stunning as they are troubling. I asked him if he thought there was anything in particular about San Francisco's environment, light or topography that was conducive to photographic thinking. His reply not only addresses his own experience but encapsulates the perceptual transformation that has drawn photographic artists here for generations: "When I moved to the Bay area from New York City about 25 years ago, I experienced a kind of reawakening of all my senses, including, of course, vision. My wife and I moved from a live/work studio in lower Manhattan whose windows faced a brick wall, to a tiny, jewel-like house in Muir Beach that looked out at the Pacific Ocean through a wall of windows that were about eighteen feet tall. To focus one's eyes out toward infinity, to see and absorb the constantly shifting light, to sense how the fog and moisture in the air changed the color of light … the Bay Area is suffused with the natural world. It's woven into the fabric of the urban environment in a way that's truly distinct to any other American city."
Originally published in the catalog Collected, by Pier 24 Photography, San Francisco 2016