Book Report No.1
This is the first in a regular series of essays on photobooks. Books discussed in this first installment are Elegy by Justin Kimball, Rift / Fault by Marion Belanger, and Either Limits or Contradictions by Nick Meyer.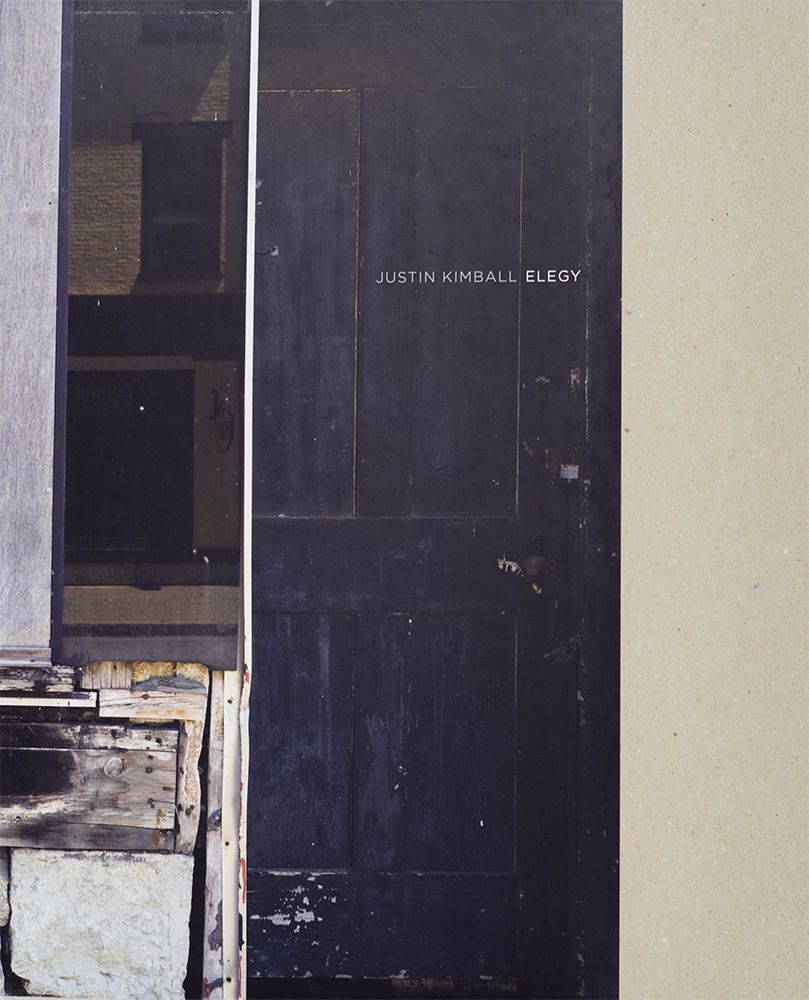 Elegy by Justin Kimball (Radius Books, 2016)
The cover image of Justin Kimball's Elegy wraps around from the back to the front. It shows the distressed façade of a home. Lacking shingles or siding, the exposed beams are beginning to rot. Yellowing lace curtains hang forlornly behind a dusty window, the door appears to be padlocked shut. The image doesn't quite reach the edge of the book's cover, in fact it misses by a couple of inches, exposing the gray cardboard beneath. This reveal of the bare materiality of the book's construction is a brilliant, if unusual, visual preface to Kimball's images inside the book that present similar revelations about class and isolation in the small towns he photographed in rural Massachusetts, New York, Pennsylvania and Ohio.
After a lively and astute introduction by Stanley Wolukau-Wanambwa, the first photograph we encounter describes a home whose paint or siding is peeling like pale skin blistered by a summer sun. A pile of rubble and crowded shrubbery frame the foreground of this renovation project done clearly in haste. It is as if the foundational structure of the building could not accept this insulting cover-up, the cheap materials, the rushed and insincere effort, and rejected the false promise of a better life. A few pages later we can observe a young man draping his arms on a backyard clothesline. An abandoned kiddie pool has collapsed at his feet as he squints at something off camera in the distance.
Another façade offers a forlorn palimpsest combining the oddest colors and textures, the stippled green of asphalt shingles bumps against the blotted blues peeling off a cement block foundation. Plastic flowers are tucked into the joint of a drainpipe, a Tonka truck sits upon the narrowest doorstep awaiting a child to animate it. Displayed in the window above is a poster of a child with mouth agape as he / she stares in wonder at a butterfly, a creepy adult clasps the child's shoulder from behind. The poster's text reads: 'What Should Children Learn About God?' A pale light hovers over Kimball's photograph of a modest neighborhood in wintertime. A light dusting of snow gathers in patches on the ground. Behind the aluminum-sided homes looms an enormous hill covered in coal dust. The weight and granular darkness hang over the scene like a final curtain threatening to fall.
I find almost every picture in Kimball's book distressing, but not in a gratuitous, let me rub your nose in the desperation, kind of way. Neither sentimental or cynical, Kimball's photographs are as elegant as they are indisputable. He is both clear-eyed and quietly compassionate. This is our America. The places that Kimball photographs are far from the pockets of wealth and gentrification that certain shiny urban oases can boast. The social and economic neglect of poor and working families in the late 20th and early 21st centuries, has created permanent worlds of desperation. These places are vivid symbols of the ravages of trickle-down economics and tax cuts, which instead of creating proud and self-sufficient citizens, has instead offered minimum wage jobs, underfunded schools, lack of health care, and the self-hatred that wicks from the stubborn belief, despite all evidence, that all one has to do is work hard and one will be rewarded. Echoing Walker Evans, Robert Frank, or even Doug Ricard, Kimball might have employed some reference to America in his title. I am pleased that he refrained. He instead titled it Elegy — a sadder, yet more honest suggestion, that the dream of America is no match for its growing despair.
_________________________________________________________________________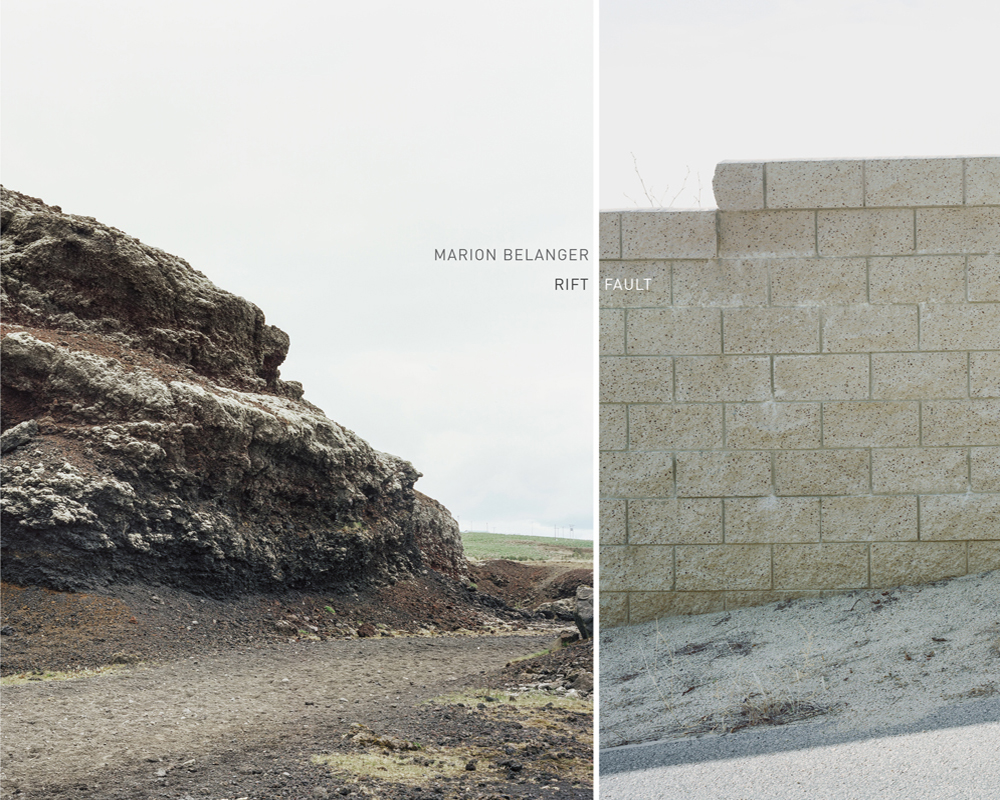 Rift / Fault by Marion Belanger (Radius Books, 2016)
In her accompanying essay, Lucy Lippard (a national treasure in my opinion), describes Belanger's book as a "Poignant metaphor for our times, as we balance on the edge of the Anthropocene and peer off into the abyss of climate change." While that may be a dramatic statement, Belanger's photographs are by contrast, rather understated, although their cumulative power does rise to Lippard's observation. Despite the legions of recent photographers who have helped redefine landscape photography, the term still conjures the legendary images of the American West made in the late 19th and early 20th centuries, with all their expansiveness, drama, and hints of the sublime. As Lewis Baltz demonstrated with his projects Park City and San Quentin Point, for example, landscapes are often banal, seen more for their potential to exploit then for their inherent beauty.
Belanger's landscape images in Rift / Fault, remind me of the challenges of portrait photography — how to suggest the inner life of the sitter when one only has surface to work with? In other words, how do you make interesting landscape imagery without relying on visual drama, the tropes of romanticism or the sublime? Belanger's answer to this challenge is in the concept and structure of her book which has an unusual format — the images are organized into two separate and distinct sequences that are hinged at the top, so that instead of turning pages in the usual manner, one flips the pages up. On the left, photographs from California under the title Fault, on the right, photographs of Iceland, titled Rift. Each side then is its own self-enclosed world, incrementally extending, literally and figuratively, the landscape of each environment. In a conventional book, the viewer / reader must follow the sequence of images as designed, in Rift / Fault, we are allowed a bit more latitude to pair our own juxtapositions between the Californian and Icelandic landscapes.
The topography of Iceland is rocky, often barren, black volcanic soil spreads in all directions while wisps of steam leak out of unseen fissures, hinting at the geothermal power pressing from below. Belanger's California is pictured with more variation (it is a much larger and more varied place after all), showing people camping on beaches, fields of wind turbines, desiccated mountain ranges, and the suburban sprawl of parking lots and strip malls edging into scrub desert. While there are many individually strong images, Belanger's pairings underscore the exponential power of comparison. For example, Plate 13 shows the sloping backyards in Daly City, California, a city perched on a cliff overlooking the Pacific and sitting directly above the San Andreas Fault. In the hazy distance we can see similar hilly terrain covered with tiny houses. On the right, we can view the picture-perfect village of Heimaey in Iceland. The perfection is undermined by the abyss that opens up at the end of one street to reveal an underworld of volcanic soil that has swallowed older structures.
Belanger's approach to image-making is informed not only of her understanding of the history of photography, but more urgently, how precarious human life / culture is claiming a bit of territory on the skin of this earth. Plate tectonics, geothermal forces, volcanic activity, and climate change hover just outside, or just below the frame, all of which can and will make human claims of dominance and control, a sad boast. In Belanger's vision, humans seem to occupy slivers of the planet, living out their lives in tentative and temporary settlements, holding their collective breath hoping that today at least will be spared inevitable cataclysm.
_________________________________________________________________________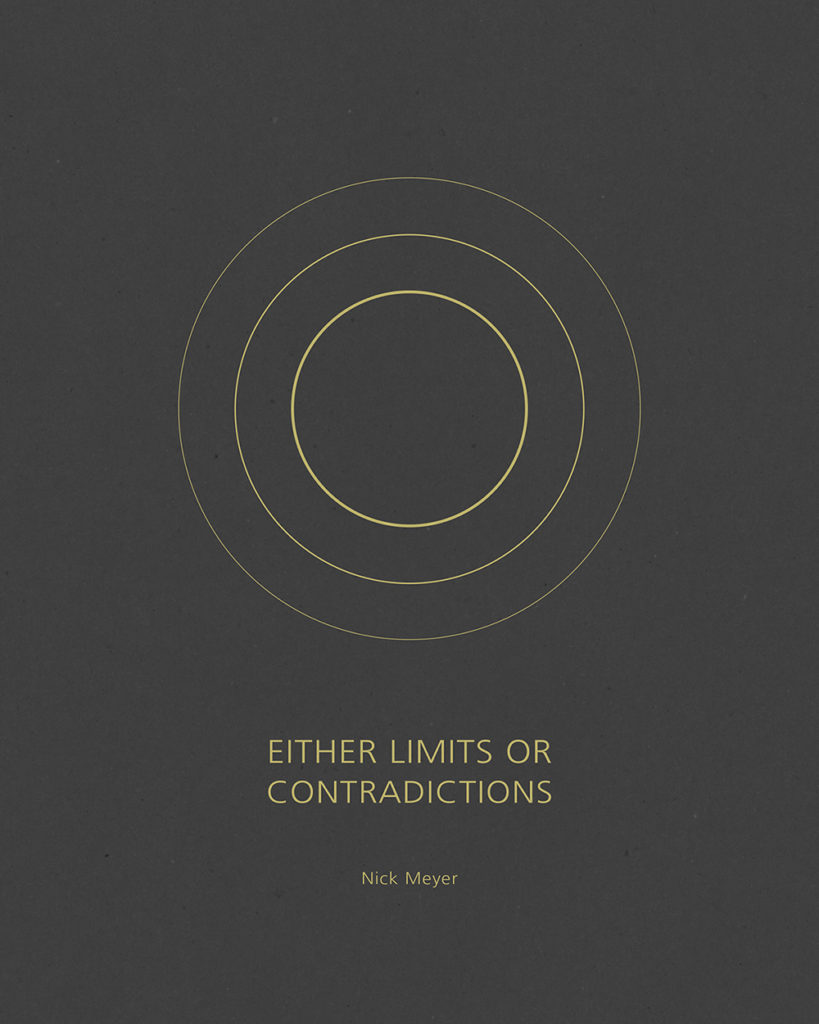 Either Limits or Contradictions by Nick Meyer (Daylight Books, 2016)
Meyer begins his short text introducing the book with the statement 'I am afraid of dying,' an honest and disarming claim. Who isn't? But seldom is it admitted, especially in the context of a monograph. His confession informs this deeply felt, personal evocation of friendship, family, and loss. The book is structured yet loose, with the intimate photographs gathered into three chapters headed by evocative titles, 1. We Won't Need Bright Lights, Gonna Make Our Own Lightening, 2. It is Heavenly Weather, and 3. Mists and Exhalations. The accompanying texts by Aaron Schuman, Meyer, and a poem by Lawrence Ferlinghetti, offer distinct meditations on the ephemerality of moments and the transitory nature of relationships. The overall arc of the book follows Meyer and his companions through a few years of their lives. Chapter One is playful in its imagery and its sequence — beginning with a brightly lit scene of an extension cord hovering over a wooden floor, bits of dust, a bottle cap, an empty cigarette pack, and other detritus, suggesting the improvisatory nature of youth. This introductory image is soon followed by images of couples laying across couches, home-made tattoos, pet cats flipping in the air, swimming and hanging out by bodies of water.
Chapter Two continues the themes of friends and water although a somber undercurrent adds emotional complexity to the images. There are smiles, and the sensuality of friends who are unashamed to reveal their bodies to each other and to the camera, yet hints of anxiety and ambivalence are evident, as in the last image of the sequence that shows a standing couple, swathed in a forest green blanket embracing while one looks over the other's shoulder toward the camera. The third section, Mist and Exhalations, digs deeper, goes darker, despite, or perhaps because of, the arrival of children. Trading photographs for ghosts, the first image in this section shows us a wood-paneled wall spotted with the pale traces of the frames that once hung there. The next image is of a loop of flypaper hanging from a ceiling light, the diffused illumination from the nearby window makes silhouettes of the graveyard of flies. Babies make their appearance, there is more swimming, moonrises and sunsets cast a faint glow over empty landscapes limned with longing. The final image spies upon two people from behind as they scramble down a footpath toward a forbidding wall of trees.
Leafing through Meyer's book, I am reminded of Graciela Iturbide's comment "I have always thought the photographer was a stranger who didn't want to be one." There is something fundamental about the photographic act that embodies the loneliness of the observer. The photographer yearns to connect and photographing can be a way in, yet it requires an observational remoteness. Meyer's imagery captures this paradox, and combined with the attenuated light in New England, where many of Meyer's photographs are made, he describes moments of quiet beauty underscored by the knowledge that this too shall pass. Aaron Schuman, who was Meyer's photography teacher in high school writes: "Here, the ordinary isn't so much transformed as it is transfixed, and allowed to shine in all its intricacy and assuming glory."