Maria Broom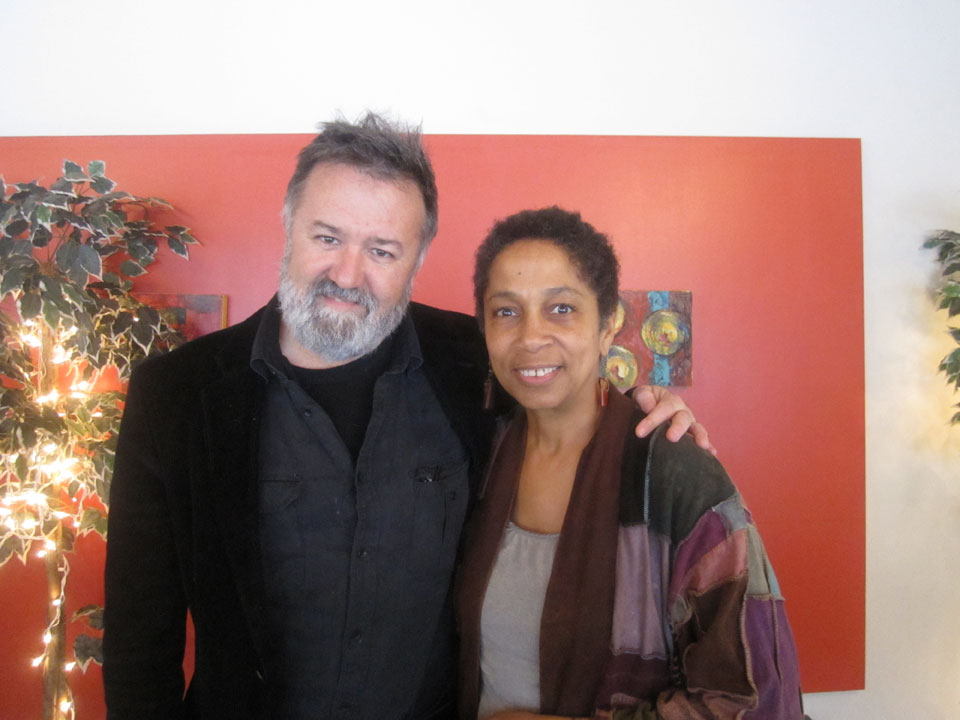 I met with Maria Broom in a local eatery in Baltimore on dreary late March afternoon. With the whooshing and hissing sounds of the espresso machine as the ambient soundtrack, we sat chatting for about two hours. Not only did the restaurant staff give her smiles and attention that I never seem to get, almost every patron who came and went said hello, nodded or warmly embraced her.  In her many roles, as dancer, teacher, storyteller, TV reporter, and not to mention actor, Maria has touched many lives in this city. She was born and raised in Baltimore, went to Western High School and Morgan State University and while she has lived briefly elsewhere, Baltimore is in her blood.
Maria has lived the life of an artist, circuitous, risk-taking, unconventional and filled with unexpected opportunities.  Maria's basic philosophy is to be open to the surprising gifts of the universe.  She remembers being six years old when her mom brought her to see a grand ballet production at the Lyric Opera House. She was awestruck by the beauty, theatricality and dancing; she thought to herself  'these are my people!"  This precocious revelation would provide a guiding light for the rest of her life.  While a dance student at Morgan, she applied for a Fulbright to study classical Indian dance, imagining an exotic year traveling, and studying in India.  As fate would have it, instead she was offered a Fulbright to Germany.  One day, while on break from dance class in Berlin, sitting outside in the sun, a very tall African man asked her "Are you a dancer?"  This encounter led to a series of exciting dance projects including the German production of the musical Hair, which makes one wish for access to a time machine.
On the flight back to the U.S., it occurred to her that being a flight attendant might be a good thing to try and soon enough she was based in Miami, working for the now-defunct Pan Am airlines.  Another example of one of the many unexpected turns in her career; a year into being a flight attendant she was interviewed by a local television station about the impact of the newly installed X-ray machines.  The reporter liked the quality of Maria's voice and mentioned that the station was looking for a black female reporter.  After returning from a trip to Managua she went directly to the TV station for her interview and screen test, within a week she had quit her airline job and was on screen.  She came back to Baltimore in the mid-1970s for a position on WJZ Channel 13.  All over the city and state, like a local Foxy Brown, billboards featuring a portrait of Maria with her Afro, turtle neck, and hard stare declared her 'The Public Defender'.  Her public persona was of that of the populist journalist watching out for the interests of citizens and consumers.
Despite all of these exciting developments, the call of dance never quieted, in fact, its pull grew more insistent. In her late 20s she felt like she had to make a choice. So to the chagrin and amazement of friends, colleagues and even newspaper editorials, Maria left television reporting to devote herself to dance.  She says: "People thought I was crazy, but you have to do what you were born to do, otherwise you will not be happy. You might have an easier time paying the rent if you do something else, but you won't be happy."  She says it took her about seven years to fully transform from TV personality to dancer and teacher. "I really learned what you could live without."  This period also brought a deepening and broadening of her spirituality. Born and raised Episcopalian, she now avoids spiritual categories believing that we are all 'children of God'.
Her acting career began with a role in the film Clara's Heart that was shot in Baltimore with Whoopie Goldberg.  The casting agent, Pat Moran, a local legend, suggested Maria to the producers, and after knocking them out with her Jamaican accent Maria got the gig. This led to substantial parts in Homicide and West Wing.  But it was her roles as Bunchie in The Corner and as Marla Daniels in The Wire that reached audiences worldwide.   I know of no other American city that has been defined and identified in the popular imagination with such a small but vivid clutch of TV series and films as Baltimore. John Waters is legendary in this regard. But aside from Waters, David Simon is the man who is behind the three shows that define Baltimore; Homicide: Life on the Street, The Corner and The Wire.  Maria Broom has been in all three.
Maria Broom as Bunchie in The Corner guards her box of Newport cigarettes like it is royal treasure. She is quiet but unforgettable, an understated participant in and witness to the ever-shifting alliances and plots that construct the days and nights of junkies, dealers and people stuck in neighborhoods with little opportunity. Her character in The Wire could not be more different. She plays Marla Daniels the ambitious political wife of a police lieutenant.  Marla Daniels knows how to play the system and is forever scheming to make it work toward her personal agenda.  It is a testament to David Simon and co-creator, Ed Burns that every character in The Wire is unforgettable, from Stringer Bell to Omar, from McNulty to Bunk, from Carcetti to Lester Freamon.  Though The Wire stopped production 3 years ago, it still amazes Maria how many people stop her on the street to comment on the impact the show made on them.
Yet the dance continues. She teaches dance/movement at the Baltimore School for the Arts, and describes herself as 'The Dance Bringer' when she performs and leads workshops in schools and community organizations.  Maria thinks of dance as something we do in the womb, that we are rocked into this world with a  constant rhythmic motion. We  make personal patterns with our bodies, that even when walking we swing our arms and feet uniquely.  With all of her experience and wisdom she has developed an approach to movement she calls 'Dance Medicine' through which she helps people to connect to their deepest selves. Maria laughs easily, exuding charm, charisma, and grace even in the way she stirs the sugar in her coffee.  In Maria's presence, I think even the most stubborn of skeptics would begin to believe themselves a child of God.